Working as a real estate agent, you are your own business. You're the expert people come to when they want to buy, sell or invest. If you're thinking about growing your business or are in the process of doing so, these tips below will show you how to grow your real estate business.
How to grow a real estate business — 10 strategies for success
In this article, we're going to explore the following strategies for growing a real estate venture:
Let's jump in.
1. Evaluate where you are now
Account for all aspects of your business: marketing, sales, business objectives and areas for improvement. Determine the growth you want to achieve. Take a hard look at your budgets and list your resources. Make cuts or additions where needed.
Perform a cost analysis of the business. If you have an accountant, they can provide you with the appropriate figures needed.
As a reminder, if you are considering hiring an outside firm, make sure to compare the cost of the firm to hiring your own employees. There are pros and cons to both.
Take stock of what is working and what isn't.
Evaluating the current position of your business is necessary when it comes to scaling or growing.
Ask yourself the difficult questions:
Are you spending money wisely?
Are you investing enough back into your business to properly grow for long-term business health?
Is the need for my service great enough to expand to a new area?
Be honest with yourself. It will prepare you for future ventures.
Remember, as you are evaluating, to keep the strategies that are bringing in clients. If you have a strategy that consistently works and keeps bringing in solid leads, keep doing it.
It makes no difference what size your business is, when it comes to growth, evaluation and assessment are vital. It's a fortune teller of sorts.
2. Invest in professional development
As an agent, you already attend seminars and continuing education classes, so do some searching outside the real estate sphere. Change it up.
There are also various online platforms for learning other skills. Websites like Alison.com and LinkedIn Learning or Coursera.org offer certifications and informational classes.
Reviewing some of the classes like marketing, social media and analytics can make some serious impacts to your sales funnel and your bottom line.
Remember, in an ever-changing market like real estate, an agent must stay on top of different trends.
Register for newsletters from different real estate websites for market updates.
If you are a member of NAR you have access to all the association's research and articles. Take advantage of them.
3. Forge strategic partnerships
As your real estate business grows, adding strategic partnerships can greatly increase your long-term client list, which is the foundation of your business.
Make business alliances with other businesses and companies. Refer business back and forth.
It takes a word-of-mouth referral from random to reliable.
You can also create partnerships with other agents. Give agent referrals across state lines or forge an alliance with an urban real estate agent if you specialize in rural properties.
Referrals are a good way to build a network as well as earn a little bit of extra money.
Related: How to market a local business through strategic collaboration
4. Embrace omnichannel marketing
Marketing is something most companies must do to generate revenue. Being a real estate agent is the same. As an agent, you might have your image on a for-sale sign and your business cards.
Consider how you are marketing yourself, the product. How do you see yourself being marketed in the future?
Marketing funnels
The best way to understand the marketing funnel is to consider how a funnel works. The top is wider, allowing more into the funnel.
In marketing, this is where your prospective clients are located.
They are becoming aware they have a need or a problem that needs resolution. Once they identify the problem or need, they move down to the next step in the funnel.
In the next step of the funnel, the client becomes interested in searching for solutions to the problem. In this case, they might be considering selling a home or are dreaming of a second home.
At that stage, the client moves even further down the funnel, reaching the point to initiate the search for "brands." The prospective client searches for a real estate agent, for your brand. This leads to the bottom of the funnel. The prospective client makes the decision to reach out to you.
Once the client has gone through the funnel, they reached the follow-up stage. This is where the client would be either happy with their experience and willing to pass on your agent information or be disappointed. If the latter, make sure to find out why and how to fix the problem.
Creating campaigns
When you start analyzing whether to create a marketing campaign, first determine your purpose. Is there a need for your services in the area you want to expand into?
You will also want to determine the location's primary demographic. Use the MLS to find research and statistics for a more comprehensive look to properly root your prospective campaign.
Once you have determined your main purpose and prospective location, you are ready to delve into the details of your campaign.
Related: 5 smart and affordable digital marketing strategies to grow your venture
Email marketing
Newsletters or marketing emails are common ways to reach clients.
But creating alluring copy isn't always as easy as it seems.
When it comes to writing engaging copy that leads to sales, it might be best left to the professionals.
Consider hiring a copywriter, marketing group or firm. They have the scoop on what is working and what isn't. They can help you determine what is best suited for your specific business. Some agencies have specific experience writing for real estate agents.
If you want to take a crack at writing for yourself, go for it! If so, you might want to then invest in a professional editor.
If you choose to create a newsletter, start by determining a theme for your newsletter. How do you see your newsletter?
Consider cleaning or organization tips, home repair or cooking, paired with some well-written content and a couple of listings at the bottom to keep clients engaged with quick access to your name and contact information.
Choosing to send a more formal recurring email can do the trick. Outline what you want in each email and, again, consider hiring a professional writer or someone in marketing to write the content. They are skilled in crafting content to get actionable results.
One other tip for email marketing, take the time to scrub your email list. It makes your inbox much cleaner.
Related: How to write the best email subject lines
Pay-per-click advertising
This is an advertising trend we all see daily when online. An advertisement pops up, you click on it. The address takes you to a paid advertisement for a product.
It's the marketing funnel in action.
Setting up a pay-per-click campaign is a relatively process on any social media platform.
The Facebook business page you set up offers ways to pay to promote your business and has built-in analytics. You can assess what posts perform better than others. Twitter and Instagram offer similar options and are easily set up.
If you are looking for something more than just a social media pay-per-click advertising, Google and other search engines offer options for businesses to appear at the top of the search page. It clearly says "Ad" on the left side of the search page entry. This can be more expensive, so make sure you are well versed in your options before paying for this kind of advertising.
Related: How to use omni-channel marketing to grow your small business
5. Start blogging
Blogging, a content marketing strategy, is another great way to grow a real estate business.
Creating blog content that current and prospective real estate clients will find valuable will help to establish you as a thought leader in your field.
You can gain authority in your niche by blogging about topics such as:
An overview of elementary schools in your real estate market
Qualities to look for in an effective buyer's and seller's agent
Easy DIY projects to increase your home's value before listing it
Insights from successful buyer and sellers in your market (also a great way to include satisfied clients in your content marketing efforts)
You get the idea.
Creating valuable blog content, which you can publish on your own website or offer to strategic partners to publish on their platforms, also can increase your real estate venture's rankings on Google.
How?
Google and other search engines crawl the internet looking for the most relevant content to serve up for search queries. So, by doing some targeted keyword research and creating blog posts that address the topics your target audience is searching for online, you can improve your visibility on Google.
Related: How to use real estate blogs to generate leads from interested buyers and Easy content marketing for real estate agents
6. Create consistent social media accounts and integrated campaigns
Oh, social media, how you have changed our lives! It is easy to snap a photo and post it with a caption. But do you have a social media strategy that can complement your other marketing strategies?
If not, you should.
List some basic rules to follow. Campaigns should flow over all social media platforms to offer a consistent, trustworthy image.
Make sure you have easy access to your logo or copyright for images when on your mobile device. Using cloud storage attached to your email carrier can really come in handy and can be used across multiple platforms.
If you are managing many different platforms at once, use websites like Hootsuite.com . This helps you manage all your social media accounts. Create posts, use the same post on different accounts and schedule future posts.
Related: How to build your real estate social media strategy
7. Make website improvements
Is your website updated? Is your security and copyright current? How is your design? Is it easy for clients to navigate? Do you need to update your logo (if so try our logo maker) or perhaps rebrand for a fresh look to attract new clients in a new neighborhood?
These are all good questions and a great way to start thinking about your website.
As a real estate agent, you are your own brand. Create or recreate your image and use your website to show off your business.
If you have access to the MLS, ask your webmaster to use an MLS plugin. This way, clients can see a slideshow of different MLS active listed properties.
If you decide to update your website, make sure to use a professional. Yes, it is easy to hop on YouTube and watch a do-it-yourself video. But you will save you time and money in the long run by using someone who understands all the workings behind the screens.
Related: How to build a real estate website the easy way
8. Consider hiring a marketing firm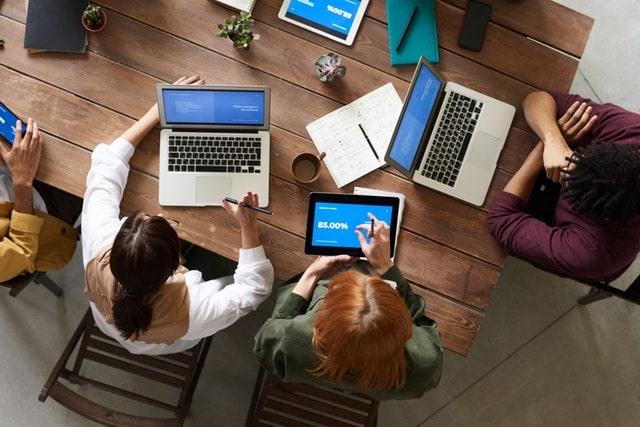 If you have decided to focus on your sales, listings or real estate investors, hiring a marketing agency or firm could take a lot of the extra work off your hands.
A cost analysis of your time to hire, train and oversee staff compared to the cost of a marketing or advertising agency should be compared and considered. There are pros and cons to using both.
Remember to look at what your objectives are, and which solution best fits your company's objectives.
Like in any other business, get more than one quote. Shop a little bit before settling on one. You need to do what is best for your real estate business and choose the company that will do what is right for you.
9. Consider adding a PR firm
Whereas a marketing firm markets your company or product, a public relations firm's goal is to improve your company's image through media and consumer contact.
It is no longer true that all press is good press. With social media and customer reviews, it's sometimes best to hire a manager for your public image.
A PR firm can handle everything from social media campaigns and daily social media management of accounts to professional speech writing and media management. They understand social trends from both the analytical and social sides.
10. Fine-tune signage and direct mail
Sometimes you just must go back to the non-digital age and use what has worked in the past, like yard signage and snail-mail. These are still two great ways to reach existing and prospective clients.
Signs are an inexpensive way to display your contact information in an area you currently work in or used in a potential area of expansion.
Basic information makes it easier to remember or scribble down.
Related: Real estate signage best practices
Direct mailing and postcards
This is a fantastic way to showcase and display properties that have come to market.
Another fantastic use is to show prospective clients your connection to their neighborhood.
Complete some statistical research on the NAR website for your area. Use basic statistics about home sales or average sale prices in the neighborhood. People like statistics.
Use a graphic designer and professional printer. Do what's right for your business but try not to skimp. This card represents your business. Make it professional, easy to read, informational, and make sure your contact information is clear and easily accessible.
If you are trying to gain new clients and have performed your due diligence on a prospective neighborhood, offer a new client a home-value analysis. This can be performed through your local or regional MLS association.
It takes just a few minutes and can be emailed directly to the client via email. This is a great way to get new client information and pique interest.
One last tip on any mailer, put "or current resident" under each name on the address labels. This way, in case someone moves the mail will not be forwarded and that is just one more opportunity for a new client.
An interesting 2019 statistic on direct mailing from IWCO.com states that , "letter-sized direct mail performed best for lead generation with 15.1% response rate." Granted, this statistic applies to general business mailers, not specifically real estate, but that is still a pretty good return.
Bonus tip: Amp up the networking
In this progressively digital society, some forget to simply socialize. Go to gatherings, cocktail hours or meetups for real estate agents, and mingle at the continuing education classes.
Get out there and meet people.
Stock up on your business cards and prepare your 10-second introduction.
These are the relationships that can help stabilize your client base. This investment will continue to pay off over the long term.
As a general rule, use any opportunity to share business cards. Don't be obnoxious about it. If someone isn't interested, don't be pushy. But be prepared. You might find your best friend's cousin wants to sell his home or buy a vacation rental.
Most importantly, be patient with your business and yourself. Success isn't instantaneous. It is an investment which when fed, will grow.