Like all industries, real estate has evolved over the last two decades. Online listings have supplanted newspaper ads, PPC marketing has allowed agents to advertise at a lower cost than in the past, and many homes are now advertised using videos captured by drones. One of the largest changes, however, has been the advent of social media — specifically the need to create and cultivate a strong real estate social media strategy.
For today's real estate professionals, a real estate social media strategy should be a key part of your overall marketing plan.
Why? It's where consumers are spending their time. Here's what you should know about social media's role in real estate and how you can implement social media strategies for your own real estate business.
Related: Real estate social media marketing that sells
Why is a real estate social media strategy so important?
A real estate social media strategy is an important marketing tool for real estate agents for a number of reasons. To begin with, social media allows you to reach a large number of people at a much lower cost than it would take to market via more traditional methods.
Targeting is another important advantage of social media for real estate agents, as most platforms allow you to target specific demographics of people who are most likely to be interested in your listings.
Finally, social media lets you interact directly with potential clients in a way that few other marketing channels can.
In these ways, social media can help you reach and convert users — but only if you give your posts a personal touch. People see dozens and dozens of social media ads and posts every day.
To stand out, you'll need to find unique ways to connect with consumers.
Related: A beginner's guide to social media for small businesses
Start building your social media brand
Social media can seem like a whole new world. Let's take things one step at a time.
Create your accounts
The first step is, of course, to create accounts on various social media platforms for yourself or your business. When users look you up on social media, these are the pages they will see, so be sure that they include good pictures and well-written descriptions.
Remember that social media is all about connecting with other people.
Separate yourself from faceless brands by using pictures of yourself and adding a brief bio about your personal life and interests.
Editor's note: Need some extra help with your social media efforts? The pros at GoDaddy Social not only manage your presence on your social networks, but also can help turn a one-time interaction into a lifelong client — and referrals.
Be consistent
When it comes to the look and feel of your social media profiles, they should all look somewhat similar. To accomplish this, consider using the same profile picture across accounts, similar handles (if possible) and the same photographic aesthetic and visual branding elements (more on this later).
Related: Social media image sizes: The 2018 cheat sheet
Have a website to point people to
What good is a social media post without a call-to-action? If you haven't already, buy your own personal web domain and build a website so you have somewhere to drive friends and followers to for more information.
Your domain should describe who you are and what you do.
When choosing your domain name, use your name or that of your business. Don't forget that new top-level domains now exist beyond the common .com, .org and .net. For real estate agents, you can communicate what your business does by using .homes, .realty, .realestate or .rent.
Related: The low down: Choosing real estate company names and domains
Editor's note: Find if your perfect domain name is available now!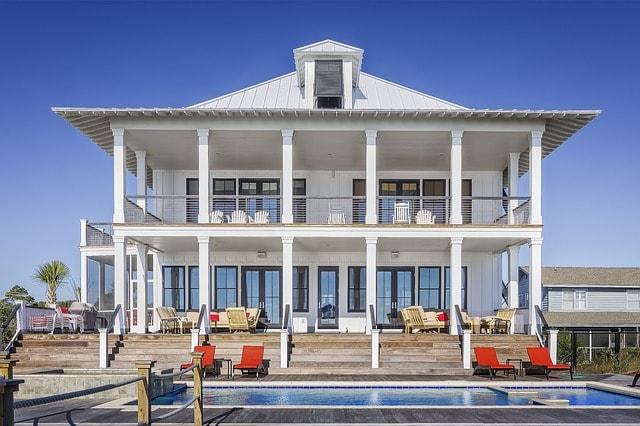 Post, post and post some more
Now it's time to begin posting. To start a real estate social media strategy for your real estate business, you'll want to post several different kinds of content, including pictures and videos of homes you are listing, neighborhood listings and notifications of open house events.
And with your website all set up, you can include direct links to pages that might interest your followers.
Having a branded domain name appear in your posts will also help build your social media brand by adding a dose of professionalism.
Alternatively, you can set your domain to redirect people to one of your social media accounts, and use that in place of a website.
Related: Attract house hunters with these real estate blog ideas
Establish your own style
From the very beginning, you should think about your visual branding as it relates to your social media strategy. Visual branding elements include everything from your logo to the color palette you use on your website to your listing photos. Creating a consistent look will help people recognize your brand more easily.
Related: SOLD: Real estate business card ideas
Cultivate a community
To foster a sense of community among followers, you need to actively communicate with the people who engage with your social media posts. When someone leaves a comment or sends a message, be sure to respond as soon as possible in a friendly manner and with helpful information. This will help convert people who follow you on social media into actual clients.
Related: 5 do's and don'ts for social media customer service
Branch out
Once you've set yourself up on commonly used platforms like Facebook and Instagram, you can start experimenting with more advanced methods to build your audience. Creating a YouTube channel, for example, can help you establish yourself as a real estate authority within your market. LinkedIn content can likewise bolster your reputation and help potential clients see you as an expert agent who will help them find exactly what they're looking for.
Much like your career, your real estate social media strategy is something that can grow and evolve over time.
Real-world examples: From NYC to Beverly Hills
Social media strategy and branding is all well and good in theory, but which real estate professionals are actually doing it in the real world?
Look no further than Douglas Elliman Real Estate, one of New York City's premier realty companies with offices across the country. Douglas Elliman Real Estate's social media feeds embody several social media strategy best practices.
Its Instagram account, for example, includes professional videos and high-quality property photographs, as well as engaging copy. While Douglas Elliman doesn't use a logo or watermark on its images, it does use a well-designed logo as the company's social media avatar to reinforce its visual branding.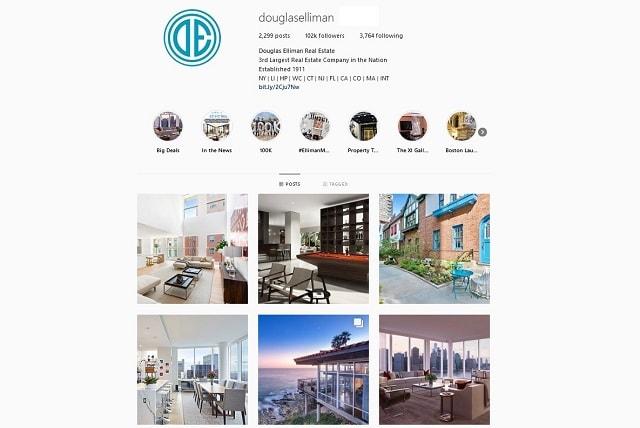 Another example is Brooke Daitchman, a leading real estate agent in Chicago, who has branded herself as Brooke Sells Chicago on Facebook. She uses a successful before and after template that shows how properties can be transformed through renovation, inspiring her users to dream of the possibilities.
She's also great at using hashtags — with each one of her posts containing the hashtags most relevant to the content so users can find it. Daitchman also maintains a personal web domain that allows her to brand herself separately from her realty firm.
A final example of great social media branding is Josh Flagg, a luxury real estate agent in Beverly Hills. Sure, Flagg's best branding tool is his TV show "Million Dollar Listing," but his Facebook and Instagram pages are classic examples of social media brand building. By using best practices, Flagg has managed to create large, engaged audiences across various social media sites.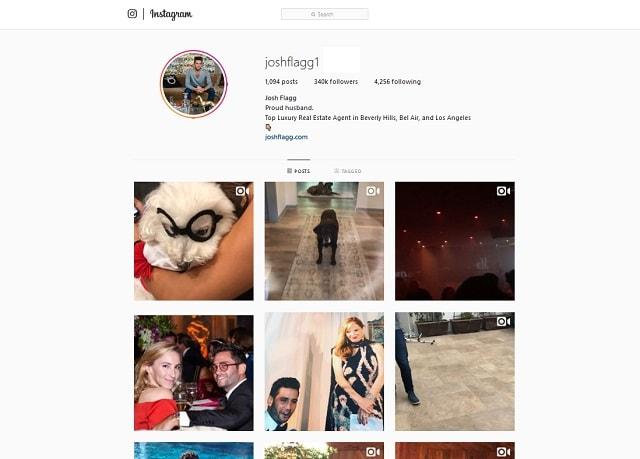 Related: How to increase Instagram engagement for your real estate company
Real estate social media strategy without the stress
It's no secret that building and maintaining a real estate social media strategy can involve a fair amount of time and effort. If you're too busy to do it well or if you'd like to outsource your social media so you can focus on real estate, consider hiring a third party to manage your channels.
One leading social media management service for small-business owners is GoDaddy Social. While GoDaddy is better known as a domain registrar, it also offers a high-quality social media management service that will help you build and maintain your social media brand.
Social media can be a powerful tool to grow your client base. If you're ready to begin building your real estate social media strategy, follow these tips to get started and gradually build your audience on a variety of platforms.