When designing a website, it is very easy to focus only on making things pretty while forgetting to make sure that the website also achieves business goals. Today, I'm offering a primer on marketing strategy for websites.
Before you start developing a web project, it's vital to have a clear understanding of goals you want your website to achieve concerning leads and revenue. The tool which helps you gain this understanding is called marketing strategy.
A well-planned marketing strategy is crucial to the success of any website design project — it helps you identify your business's objectives and determine what tactics you will need to accomplish them.
This article covers the fundamentals of a marketing strategy for websites and applies them to the specifics of a small- or medium-sized business. And while the process of building out an effective marketing strategy can vary based on the needs of an individual product, it's still possible to present this process as three phases.
3 phases of marketing strategy for web developers
Discovery.

Creation.

Evaluation.
Now let's look at what's involved with each stage of an effective marketing strategy.
1. Discovery
The process of creating a marketing strategy starts with extensive research. The research is intended to give you a complete understanding of your market niche.
Identify your target audience
"Who is our target customer?" Finding the answer to this fundamental question should be a natural first step in the process of creating a marketing strategy. When you discover all the characteristics of your target audience (start by creating a buyer persona), you'll have a better idea of which tools will be the most effective for your marketing strategy.
Learn more about why a target audience matters, and how to find yours.
Research target audience needs
Many web developers believe that researching users' needs is a completely optional activity — since they already know who their target audience is, they can assume what needs the audience has. Unfortunately, this assumption isn't always going to be relevant. The problem is that we often portray our users as something they're not.
Identify the characteristics of your target audience, and you'll be able to understand what they really need.
That's why researching of target audience should be a mandatory step in the process of creating a marketing strategy. When you identify what the characteristics of your target audience are, you'll be able to understand what they really need. This knowledge will help you build a well-targeted marketing strategy.
To research users' needs, you need to collect both qualitative and quantitative feedback from your target audience:
Quantitative research. Quantitative research is supposed to answer questions like "How many users prefer X over Y?" Creating an online survey for your target audience is one of the common ways of conducting such research.
Qualitative research. Qualitative research answers the questions like "Why do users prefer X over Y?" There are a couple of techniques that can be used to gain qualitative insights. You can start with effective offline methods — interview your users/customers to understand areas that need to be improved. Don't forget that your own website is the cornerstone of your marketing strategy; use tools like Crazy Egg to visualize user flows. It will help you understand what your visitors are interested in most.
Tip: Prioritize your findings. Not all findings are equally important — rank the importance of each finding to determine the impact it has on the business.
Identify and analyze leading channels
"How do people find us?" is another fundamental question that needs to be answered. There are various ways to get this understanding. For example, you can interview some of your existing customers to understand how they found you. Or you can use Google Analytics to find the top referrers to your website. This knowledge will help you know what marketing channels your potential customers will use.
After that, you should analyze the channel's effectiveness. It's possible to start with tracking a metric called CPC (Cost Per Click). This metric can be used to evaluate the promo campaign regarding money spent on campaign vs. the number of people reached.
Obviously, the lower the CPC, the better.
While this metric helps you understand which channel is more effective regarding user acquisition, it doesn't give you one crucial understanding — an actual conversion, or the number of people who actually signed up for the service. Thus, in most cases it's better to track Cost Per Conversion (CPC).
Conduct a competitor analysis
It's a well-known fact that online, your competitors are only a click away. Thus, it's vital to assess your product or services in comparison with your direct and indirect competitors.
Here are a few things that should be taken into account when you do a competitor analysis:
Tip: The current clients of your direct competitors have all the characteristics of the person who would use your services. Analyze their characteristics and compare them to the characteristics of your user persona.
2. Creation
Once a discovery phase is finished, it's time to move on to the creation phase. At this point, you want to focus on taking the insights found through your discovery and turning them into actionable recommendations.
Develop your value proposition
Your value proposition is perhaps the most important part of your marketing strategy. It describes what you're offering.
The key to creating an excellent value proposition is knowing your users and developing a message that resonates with them — what you offer/what you can do for them.
Here's a comprehensive guide for how to find your unique selling proposition and weave it into your website.
Tip: Use storytelling to connect with your customers. Storytelling can help you engage your visitors into reading about your product and even trying it. Tell compelling stories that connect your visitors' pains and problems with your company's remarkable solutions. Use the power of web to deliver such stories in a visual format.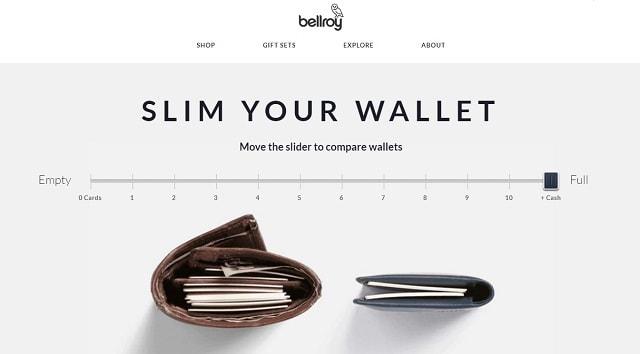 Focus on cross-team collaboration
Every action a web developer takes should be supported and backed up by the specific business objective it will achieve. For example, when web developers create navigation, they should collaborate with members of both the information architecture team and sales team to craft navigation schemes that will support both usability and conversions.
Be ready to iterate
Similar to creating new products, creating a marketing strategy is a highly iterative process. It's almost impossible to create a great product right from the first attempt. Thus, you should be patient and be ready to try different approaches.
Create great landing pages
A landing page is an essential part of marketing flow. Once visitors land on your website, you need to communicate what you do and how you do it cleanly and efficiently, without giving visitors any reason to doubt your solution and go back to the Google search results. Put out persona-targeted content that aligns with your value proposition.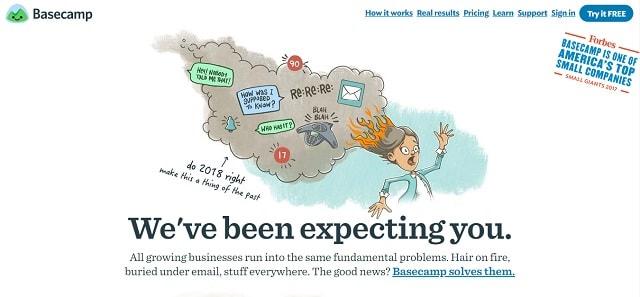 3. Evaluation
The process of working on a marketing strategy doesn't stop when you run a campaign. You need to review your strategy on a regular basis and adjust it according to the situation.
Track your marketing metrics
The only way to evaluate whether your marketing strategy is effective is to measure its impact. That's why the best web designs are built from the ground up with marketing metrics and analytics in mind.
Tracking different metrics can highlight potential areas for improvement.
It might be worth it to start with major metrics such as Return on Investment (ROI). Since the point of marketing is to generate leads and sales, the return you generate from your marketing efforts should outweigh the cost of those efforts.
After that, analyze web-specific metrics, such as average session time, channels and bounce rate for your website. For example, a tool like Google Analytics can help you understand that the bounce rate is high when visitors accessed your site through a specific channel (e.g., mobile users are spending significantly less time on the site in comparison with desktop users). From there, you can generate more ideas on how to best increase results and foster growth for your project (e.g., optimize your design for mobile usage).
It's also worth tracking a metric called Net Promoter Score. This metric will help you understand the level of customer satisfaction — whether they recommend your product or service to their friends or family.
Conclusion
A lot of people getting into tech businesses forget about the importance of marketing and selling. Any marketing niche (including web development) is exceptionally competitive. And the way you approach marketing will make you either stand out or gone forever. A well thought-out marketing strategy is crucial to the success of any website design project.