From side hustles to established businesses, ventures everywhere are adapting to the COVID-19 pandemic. Your doors might be closed but you're still working with virtual yoga classes, stay-at-home spa kits, takeout meals, or one of the many other ways day-to-days have transformed into innovative ideas.
As your business responds to evolving restrictions, your online presence is essential in keeping customers informed about the latest developments. Staying in touch with customers is more important than ever, and your Websites + Marketing site can help. We've added two new features, pop-ups and messaging, so your customers are always aware of timely updates, and can get in touch with you whenever they want.
Related: Reach out to customers through email during COVID-19
Notify customers with pop-ups
When there's a major update, like to announce new business hours or changes to your contact info, add a pop-up to your site's pages. Your pop-up is the first thing your site's visitors see, so use it for crucial information.
When you create a pop-up, you can include custom text. There's also an action button so visitors can go directly to another page, or even to another website. For example, your pop-up could tell visitors that you're now offering curbside pickup, and include a link to your contact page with your location and hours. Or, use a pop-up to announce a sale and link it to your product page.
Ready to add a pop-up? Here's how.
In your Websites + Marketing dashboard, select Edit Website to open the editor.
Select Website and choose Popup from the add-ons.
Customize your pop-up with a unique Title and Description, and if you want, an Action Button linking to another page or website.
Select Done and publish your site to apply your changes.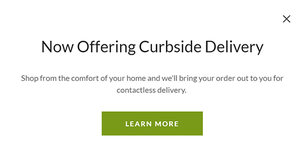 Related: How to create a coronavirus FAQ page for your website
Hear from customers with messaging
Help customers start the conversation through messages sent directly from your site.
Instead of a chat that you have to manage in real time, you can reply to customers by email when it's convenient, whether that's after another long walk with the dog or making sure the kids finished their online schoolwork.
With messaging, a button hovers in the bottom corner on each of your site's pages. Visitors can click the button to provide their name, email address, phone number, and the message they want to send you. You'll receive all messages in the email of your choice, and you can respond right from your inbox. The new contacts and messages also appear in your Connections page so you can easily track and monitor them. Messages include details such as which of your site's pages the message was sent from, so you'll understand its context.
Follow these steps to add messaging to your site.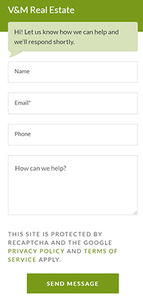 In your Websites + Marketing dashboard, select Edit Website to open the editor.
Select Website and choose Messaging from the add-ons.
Customize your messaging window with the email address you want to receive new messages at, your Welcome Message, Thank You Message, and if you want contacts to be able to subscribe to your email marketing list.
Select Done and publish your site to apply your changes.
Related: 5 ways to send updates on social media during COVID-19
Everyone will stay in the loop
The COVID-19 pandemic has resulted in a time of unforeseen change, and that means increasingly communicating with customers online. Communication works both ways, you need to inform customers about updates, and your customers will undoubtedly have questions or concerns they need to convey to you. That's a lot to take care of.
Websites + Marketing is here for the busy entrepreneur. Focus on turning those ideas into realities while we help handle growing your business. Have some big news to share? Pop-ups get your most important updates to the people who need to see them. Want to hear from your customers? Messaging lets your customers start a conversation anytime, so you can follow up when it's convenient. Use your site for communication and manage your time the way you want.
Related: 3 ways to use Websites+Marketing to keep your business healthy during COVID-19
---
You can do this!
If you need a helping hand, we're here for you.
Above all, have faith in yourself. We have faith in you.
---