5 ways to promote your services as an insurance agent
The role of an insurance agent has changed drastically in recent years as federal reform has moved the health insurance quote process from a personal across-the-kitchen-table exchange to an impersonal online experience. However, as health care law continues to evolve and insurance products shift, new opportunities are emerging for health insurance agents who can provide personalized guidance and expertise.
There's a need for agents who can provide personalized advice and guidance.
New insurance agents and seasoned brokers alike can benefit from marketing and educational tactics that help drive business, garner leads, increase opportunities to generate health insurance quotes and ultimately, increase sales. Here are five ways brokers can amp up their online and networking game to find more potential clients.
Get more insurance clients by following these 5 tips
Make your agency easy to find.

Set up social media pages.

Invest in low-cost advertising.

Host educational webinars.

Join a business networking group.
Now let's examine each strategy more closely.
1. Make your agency easy to find
Regardless of whether purchasing online or in a store, the vast majority of people research or look for help online before making any kind of purchase. If a potential client starts online, make sure your agency ranks for search terms when a person types "get health insurance quotes" into their browser. Since Google's the top search engine, it makes sense to set up a My Google Business Listing that puts your agency address, hours and phone number in clear view for your visitors. Include a link to your agency website in your listing.
[advertisement id="25749″]
According to a 2015 Mintel Report, 70 percent of Americans search for opinions before making a purchase. A Google business listing allows current customers to provide Google reviews of your services. Once your business page is established, ask happy clients to review your services on Google. Not only will you have free — and very powerful — marketing exposure, but also a built-in recommendation platform to tout your services.
Data analytics are also included with your business listing. This feature allows you to track interactions from your My Business dashboard, including how many visitors checked out your business page, the number of clicks and calls your business received — and how many people searched for driving directions from the listing — all in real time. Read more about Google business listings.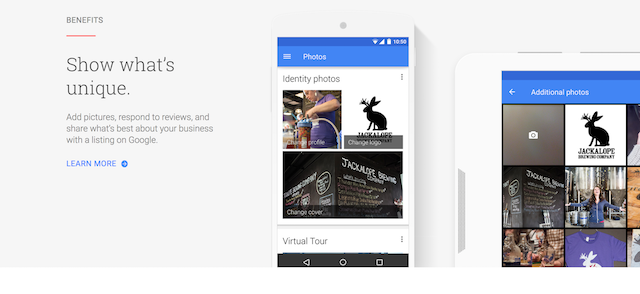 Want to manage all of your online business listings from one convenient location? Check out GoDaddy's Get Found tool.
2. Set up social media pages
Social "media" is the original term for sites like Facebook, Twitter and LinkedIn, but over time, these sites have become more about social "networking." If you're interested in developing an organic online presence, it's important to establish your business on a number of these sites.
Facebook is a natural social choice for businesses to use. It's the most widely used social network in the world, with more than 1 billion people visiting every month. No wonder 41 percent of small businesses have their own Facebook business pages.
Many people look for product advice on social media, so you should be there.
The free site allows you to educate prospective clients about the benefits of using an independent insurance agent to get health insurance quotes. Just like Google, Facebook business pages allow five-star reviews and comments. This is another opportunity to ask current clients, who are your most dedicated fans, for a good review.
Twitter is an excellent tool for monitoring your online reputation and talking directly to people who might have questions about health insurance. It is also a good place to distinguish yourself as a thought leader on insurance topics and network with other agents, carriers and insurance marketing specialists.
Instagram might not feel like a business opportunity, but 75 percent of Instagram users take an action like looking at a website or ad after seeing a post. Photos of you with clients, office colleagues at work or even a selfie are free advertising. And Instagram now allows video, which gives you the power to post an informative video about health insurance quotes for free.
3. Invest in low-cost advertising
In addition to providing a free place to interact with potential clients, Facebook offers low-cost advertising through what they call sponsored posts. Facebook knows an amazing amount about its users and can display your ads to people most likely to be looking for an insurance agent.
Facebook knows a lot about its users and can deliver your ads to people who are likely looking for an insurance agent. This is a good way to bring potential customers to your website.
Compare that to advertising on Google AdWords for keywords like "health insurance quotes," which can cost more than $7 every time an interested reader clicks on your ad. Sponsored Facebook posts average less than $1 per click.
With Facebook, you can also target your ads by location and interests, which allows you to pinpoint the exact audience you want to capture. For example, if you know that the best clients in your state are interested in Warren Buffett, Dave Ramsey and Fox News, you can target individuals who have "liked" those three pages on Facebook. For just a few dollars a day, your business can be part of your ideal client's Facebook stream.
Want more tips? Check out our free checklist: 5 ways to get more local customers
Learn how to let local customers know what you offer with this handy checklist.

4. Host educational webinars
Webinars are online presentations with both audio and visuals, and webinar conference call tools like GoToMeeting can help bring your expertise to the masses. By using a well-designed PowerPoint presentation filled with helpful examples, a webinar explains the complexities of insurance with visuals.
The webinar format gives the insurance agent the chance to break down the complexities of health insurance quotes for prospective clients.
During a webinar, you can run health insurance quotes, demonstrate what a healthy insurance portfolio should include, or educate potential clients about the pros and cons of different health plans — all from the comfort of your office. Host weekly, monthly or quarterly webinars to stay in front of potential clients and educate current policyholders about new product offerings.
5. Join a business networking group
Organizations like Business Network International (BNI), the largest networking organization in the world, host chapter meetings all across the United States. The purpose of BNI is to build relationships with businesses in your community while sharing ideas, contacts and business referrals. This can be a valuable opportunity for an insurance agent. In 2015 alone, BNI reportedly generated $93 billion in revenue for members. The fundamental elements of networking remain a key channel for building new business — whether online or offline.
The insurance agent can increase demand for services
Health insurance has become an impersonal online process, even as it's become more and more confusing and complex. As an insurance agent, you can follow these five tips to get in front of individuals and families who want and need help with health insurance quotes. Building an online presence, beyond a company website, puts your name directly in front of potential policyholders time and time again.
Image by: Visualhunt.com