How to update and manage WordPress plugins across multiple sites
Editor's note: This post is part of our collection on managing multiple WordPress sites.
***
Being able to handle and maintain plugins across multiple sites is a basic expectation of any WordPress management service.
If you can't quickly and safely make plugin changes — installing, uninstalling, updating — you lower your client WordPress sites' security and functionality; not to mention, you damage your business' reputation.
But plugin management isn't rocket science — it just takes a bit of coordination. In this guide, we'll break down the golden standards of managing clients' plugins and the best processes and tools for getting there.
The must-haves of managing WordPress plugins
As a developer or designer, you don't want to fall behind on plugin management. These tools add power and impact the security of your clients' WordPress sites. If you don't manage plugins properly, you weaken clients' sites, giving customers a reason to drop your business.
Four standards for great plugin management
With this criteria, you always have a way to evaluate your plugin management for clients:
Fast speed: You're able to quickly and seamlessly install, uninstall, and update plugins across multiple WordPress sites.
Consistent plugin updates: You have a system for regularly updating plugins to keep your clients' sites safe from hackers and up to date with the latest performance improvements.
Easy plugin checks: You have a quick process for checking plugin installs or updates before letting the changes go live.
Reliable backups: You have a dependable process for getting a backup of clients' WordPress sites before making any plugin changes.
Your ability to meet these standards, though, depends on the tools you use to manage clients' WordPress websites.
The nightmare of manually managing clients' plugins
Handling clients' plugins is a juggling act if you're manually managing multiple WordPress sites. You may experience a number of setbacks including:
Slow speed: You have to complete multiple logins every time you need to make a different plugin change.
Inconsistent plugin updates: A self-created plugin update schedule leaves room for human error and missing updates.
Difficult plugin checks: Manually checking plugins is too time-intensive to regularly complete for every install or update across clients.
Unreliable backups: You have to manually backup your WordPress site every time you want to make a plugin change.
Slow speed
Manually managing clients' plugins is time-consuming when you're running a WordPress management service. Say, for example, you have thirteen clients.
Seven of them need eight plugin updates each
Three need two plugin installs each
Three need one plugin uninstalled each
Finding each client's login information and logging into each WordPress admin panel takes roughly two minutes per client, possibly longer. Multiply that amount by thirteen clients, and logging in takes 26 minutes of your time.
The plugin tasks themselves don't take much time—they can typically be completed in a few seconds. Still, you have to spend time navigating to the Updates page for each client and skimming through long lists of plugins to see which ones need updates. This process between 13 clients could take an extra four minutes.
In total, you just spent 30 minutes managing plugins for your clients. Say you regularly check your clients' plugins four times per week — that's two hours lost every week to administrative plugin maintenance.
You lose agility when you manually manage clients' plugins. Instead of quickly making adjustments, you lose time going from admin panel to admin panel to make changes.
Inconsistent plugin updates
With manual WordPress management, you're completely responsible for tracking and completing plugin updates.
WordPress doesn't notify users outside of the platform when their plugins need to be updated. With manual management, it's up to you to create and follow a regular schedule for checking each client's plugins.
That level of control leaves room for missing plugin updates—an error that hurts your clients' sites. Plugin updates typically:
Get rid of security issues. Many plugin updates are patches to resolve security issues. Missing these updates opens up your clients' WordPress sites to hackers.
Fix bugs. Plugin updates often fix bug issues so sites run faster and smoother.
Add new features and functionality. Plugins also have updates to add new functions and make the tool more helpful to users.
You miss these improvements when you don't manually update plugins. As a result, your client WordPress sites are weaker.
Difficult plugin checks
Manually checking plugins before completing installs and updates is a cumbersome process.
You have to review a client's site for issues any time you update or install a plugin.
If you detect an issue, you have to deactivate the plugin that you most recently updated or installed.
Then, you check your client's site again to see if the issue is resolved.
If the issue is resolved, you found the problematic plugin. If not, you have to install the plugin you just deactivated and repeat the deactivating and site checking process for the rest of the plugins.
Going back and forth to check clients sites' and activating and deactivating so many plugins could easily take hours out of your day. If you have a significant number of clients, say 5 or more, you're not going to have enough time to promptly and regularly check plugins along with completing your other management tasks.
Skipping plugin checks damages your WordPress management business. The more manual plugin checks you miss, the more you weaken your clients' site performance and leave customers unhappy.
Unreliable backups
People occasionally lose their WordPress site data when making plugin changes, so it's highly recommended that you back up your site before completing any installation or update.
Manual WordPress backups, though, are an extensive process. You have to export the database and files of your site through a set of complicated steps.
Backing up files, for example, is often done through an FTP site, such as FileZilla.
You connect to your host through your FTP credentials (your host should have this info if you don't).
You select the local folder where you want to save the backup.
You select the website you want to backup.
You download the site files to your computer.
Backing up a WordPress site database is also a complex process.
Log into phpMyAdmin through your host.
Choose the database that you want to back up.
Export your database to your computer.
Manual WordPress backups aren't sustainable—the process is too long and cumbersome to complete every time you have to make a plugin change for a client.
With these three setbacks—slow speed, inconsistent updates, and unreliable backups—it's nearly impossible to efficiently handle client plugins through manual WordPress management.
Using a platform to manage clients' WordPress plugins
For great plugin management across clients, you need a tool for handling multiple WordPress sites. By consolidating your clients, a WordPress management platform, like GoDaddy Pro Sites, makes it easy to meet the standards of great plugin management.
Fast speed
WordPress management platforms provide a single dashboard where you can view all of your clients' sites.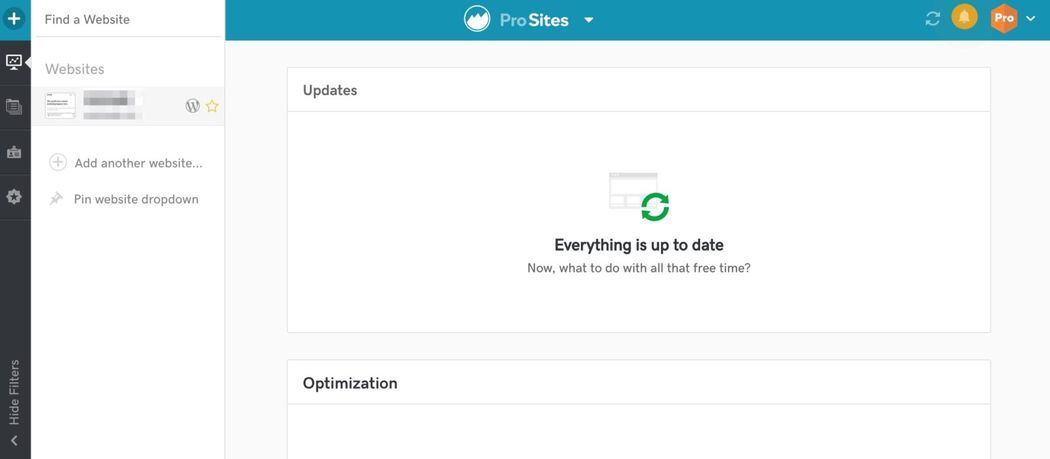 Along with other functions, this dashboard enables you to control multiple clients' plugins in one place instead of needing to do separate logins. With the GoDaddy Pro Sites dashboard, for example, you can either choose to update specific plugins or do bulk updates for all plugins with a single click.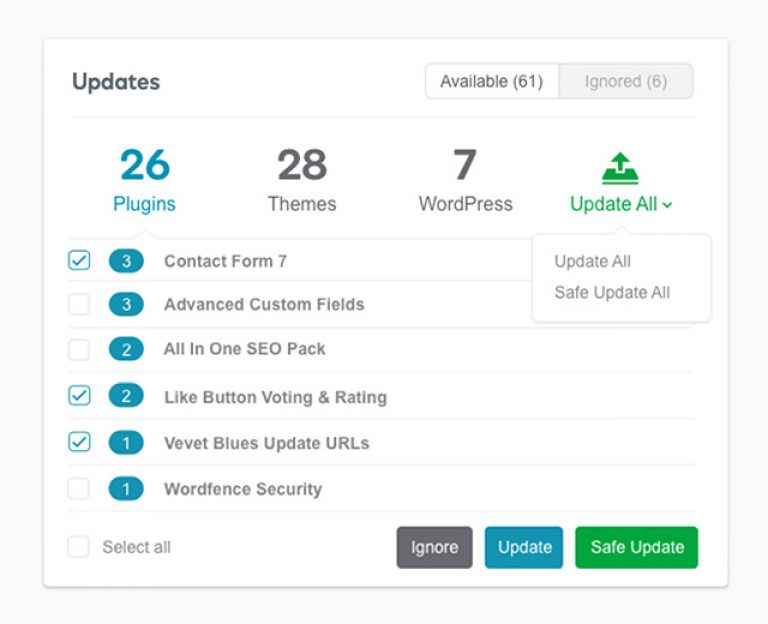 Completing all client plugin tasks from a single dashboard saves you so much time. While manual plugin changes can take half an hour for multiple clients, using a management tool like GoDaddy Pro Sites means completing plugin tasks in a few seconds.
Consistent plugin updates
WordPress management platforms make it difficult to miss plugin updates.
These management tools notify you when a plugin needs to be updated. In GoDaddy Pro Sites, you can set up email notifications for pending plugin updates.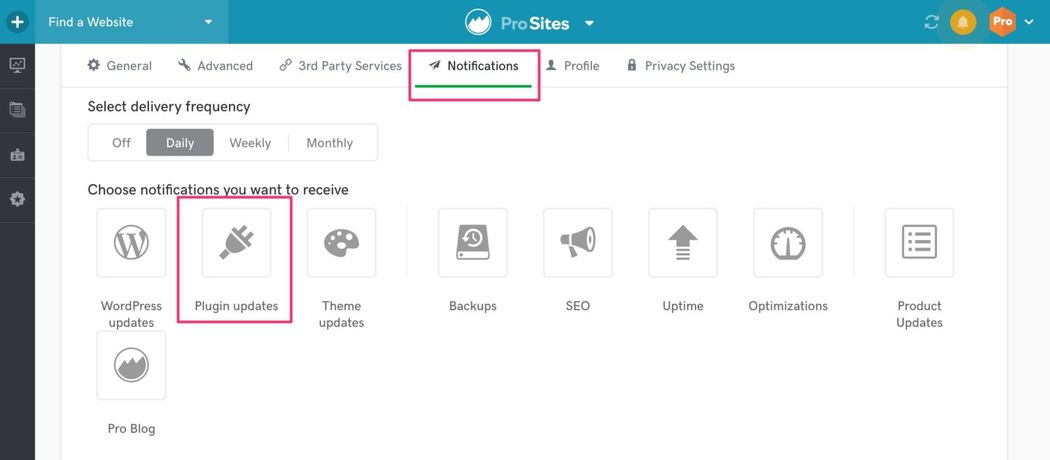 You can also use these tools to set up automatic plugin updates. GoDaddy Pro Sites allows you to schedule plugin updates for your clients' WordPress sites. On the times you designate, the tool checks for available plugin updates and runs them automatically.
With additional plugin features, WordPress management tools help you track and complete plugin updates, so your clients' site performance stays strong.
Easy plugin checks
WordPress management platforms also offer automatic plugin checks for secure installations and updates.
GoDaddy Pro Sites, for example, offers a Safe Updates feature for plugin changes. It generates visual comparisons of your clients' sites before and after plugin changes before they go live. If a client's site looks different in the after-plugin screenshot, you can restore the site to its pre-update state with just one click.
By automatically checking plugins, WordPress management platforms let you complete installs and updates without disturbing your clients' site performance.
Reliable backups
Many WordPress management tools help you save time with plugins through scheduled automatic backups. If you schedule these daily, you can make plugin changes at any time without worrying.
GoDaddy Pro offers monthly scheduled backups for free, or you can opt for the Premium Backup add-on, which allows you to schedule daily backups. This premium feature is free for GoDaddy-hosted sites, or you can pay a small monthly fee for each non-GoDaddy site.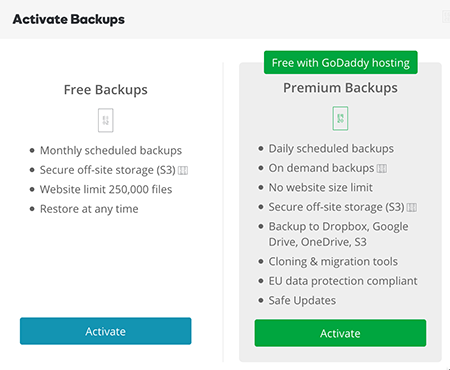 With automatic daily backups, you protect clients' WordPress sites during regular plugin changes and as a bonus, save time that you would have spent doing manual backups for each client site.
You need tools to manage multiple WordPress sites' plugins
Manually managing plugins isn't just time-consuming—it leaves room for human error. When these mistakes happen—such as missing plugin updates or failing to backup before plugin changes—you hurt your clients' WordPress sites with lower security, less features, and more.
With a WordPress management platform, your plugin changes don't hurt client sites' performance—they improve it. These tools allow you to manage all of your clients' plugins in a single place, so you can always check that plugins are helping their WordPress sites run smoothly and safely.
This control creates a better customer experience and encourages business growth. Clients know that they can rely on your WordPress management service, so they continue coming back and referring others to your company.
Image by: Photo by Hans-Peter Gauster on Unsplash