I ran away from my hometown. I joke with friends that the night I graduated high school, I packed my bags, got in a truck, and headed for the coast. That's **almost** the truth. Why did I do it? I wanted to experience the world and live in big cities. I wanted art and performance and writing and design. I wanted Thai food. And eventually, I got my wish. Now I'm the kind of person who can talk to people about storytelling, how to build a 3-page website, and where to find amazing papaya salad.
But I started to miss the place where I grew up. Recently, I decided to head home and see if it was as dull and boring as I remember.
And it wasn't. I mean, it isn't. My hometown is in the middle of a small business renaissance. I saw charming restaurants and coffee shops. I visited artsy boutiques. There's a bike store, a music shop, an Irish Pub. There's a Southern BBQ place with the best buttermilk pie I've ever tasted. I saw a matinee at a theater my great-grandparents used to visit.
I found a yoga co-op in an old department store building. Among the mats and pillows and tapestries on the walls, there's an old wooden staircase that leads up to an ancient elevator control room.
Not bad for a downtown district that was nearly deserted 20 years ago. I used to sneak through these empty buildings and hang out on black-tar rooftops. Now I get to walk through the front door, hear that familiar you've-got-a-customer chime, and listen to local business owners tell me their stories and what their next steps will be.
They feel it: everyone needs a website
And time after time—it doesn't matter if it's someone running a stationery shop, a bakery, or a law firm—I hear them say one of two things when it comes to maintaining or building their business:
I gotta get me a website.
I gotta get me a better website.
Even if they're just getting started, they know a website can help them launch their business or stay in business. What they don't know? Exactly how to do it or what to even put on their website. They just know that they need something.
Sound like you? Don't worry. I've been building websites for more than 10 years, and even I need a reminder from time to time.
The reminder?
Keep it simple. To get started, you basically only need three pages on your website. That's enough to spread the word, attract customers, and start some longer-term relationships.
Three pages. That's it.
How do I build a website?
But before we get into what your first three pages should be, let's quickly talk about the ways you can make those three pages. You have some options. And like a lot of options in life, it all depends on how much you bring to the table (money and personal knowledge) and how much work you want to put into it (time). You've basically got three choices: hire someone, use an online website builder, or code it yourself.
Use a website builder.
For a lot of first-timers, this is the way to go. It's inexpensive; it's not very technical; and you've got a lot of professional looking templates to choose from. The downside? Well, it depends on how picky you are. If there's a really hot new technology you're dying to use or you want to get under the hood and do some series customizations, an online website builder might not be for you.
Check out GoDaddy's Website Builder for a better idea of what I'm talking about. Or, if you're feeling a little more technical, Managed Wordpress might fit your needs. Take a look at the templates. Do a little research. You'll see what I mean. If you're on a tight budget, you want to get your site live quickly, and you're cool with the available templates and features, this is the way to go.
Related: Create a free website following these easy steps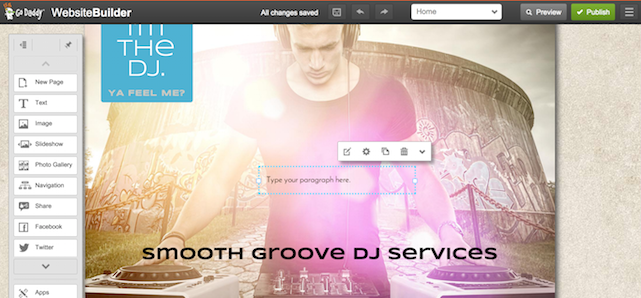 Code it yourself.
This is a more technical route. You're going to have to buy and configure a hosting account and connect your domain name to it. That's to start. After that, you'll have to actually write or tweak the markup (code) for your website. Surprisingly, though, this happens more often than you'd think. With some basic computer skills, a great tutorial, a starting template, and some designer friends you can call in a pinch, you could make your website from scratch in a couple of weeks.
Visit Treehouse and Code Academy to learn more about HTML and CSS. For a great starting template, check out this one from Jeny Elkind. It's lovely.
Hire someone to do it.
Once you factor in what you want, the time you have available, and the money you've got on-hand, you might decide that hiring a freelance website designer makes the most sense. This can cost from a few hundred dollars to thousands. Working with a freelancer or agency is great because you're more likely to get something you want out of the gate, and good freelancers will make recommendations along the way.
But finding the right freelancer can take some time. You want someone who cares about your success and your business nearly as much as you do. Search for designers in your area online and ask your friends and family who they recommend.
Editor's note: If you're interested in a professional, established web design partner, GoDaddy Web Design services are here to help.
Once you have a list of potential partners, schedule a face-to-face with each of them and review some of their past projects.
Page One: Your home page
This is the biggie, the page they'll remember you for. So we're gonna spend some extra time here. On your home page, you've got to make it clear what you do in a matter of seconds. Feeling the pressure? Good. But don't stress; there are really only two big things to worry about on your home page (besides making it pretty and telling the world how doing business with you will change their lives).
First, make sure you know what types of words someone would use to search for and find you on the Internet — then use those words on your home page. For example, if you own a Chinese restaurant in Pocatello, Idaho, be sure to include the words "Chinese restaurant" and "Pocatello, Idaho" on your home page. Even if you serve cheeseburgers, Vietnamese soup and banana splits, if most people looking for chow mein in Pocatello are searching for "Chinese food" on Google, you best stay focused on that, not cheeseburgers.
Second, make sure you have a strong call-to-action on your home page. What's the one thing you want visitors to do once they find your website? Do you want them to buy something? To schedule an appointment? To contact you? Do you want them to make brownies for their neighbor and send you a picture? Whatever it is, be obvious. Call it out. Wrap your message in a big box and put it somewhere near the top of your page.
Page Two: The goods
Page Two goes into more detail about what you do and what people can expect from you. You probably gave us a tease on the home page: something about how delicious the chow mein is at your Chinese restaurant in Pocatello. Your second page will include more detail. If you own a restaurant, this is your menu page. If you're a lawyer, this will be where you explain what kind of law you practice. A photographer? What's your rate and what does your work typically look like?
It's possible that your business only exists online. Maybe you're making custom T-shirts in your garage. T-shirts with obscure words on them that you're selling to English majors. Your home page will clearly announce what you do and why English majors everywhere will love it. Your second page—the goods—will be where you can see and buy all of the shirts you currently have for sale.
Why call this page "the goods?" Because it typically hides under a lot of other names: Menu, Services, Rates, Catalog, or Store. It's the place where you explain to us how we can get the goods.
Page Three: Contact Us
Pretty straightforward, right? Your contact us page give visitors a way to get in touch with you, even if they're not ready to buy. Maybe they have questions. Maybe they noticed something a little wonky on your website. Maybe they want to compliment you on what you're doing. Or, maybe, if you're like a lot of small businesses out there who don't sell directly on their website, this is the way they start a business relationship with you.
Keep in mind that while many many websites use a web form to gather customer questions and inquiries, that might not fit your business needs.
Take our Chinese restaurant example. Maybe contact us simply means: here's our location, stop by today. That's what they're interested in—customers showing up at their door. Or maybe you're a mechanic who does most of her business by phone. Instead of a web form (or in addition to one), you could put your phone number and street address on the contact us page.
It's a way of saying: "Sure, this is my website and this is the Internet, but I'm a real person. I have a team of real people. And we'd love to work with you. Here's how you can talk to us."
What's next?
Get your first three pages live and let them stew for a bit. Monitor your traffic. Ask your customers and potential customers how they found you. Did they see your website? What did they think?
Most important: don't get too worked up about adding new pages to your website immediately. Whether you built it yourself or had someone else do it, you'll be able to add those next pages when the time is right. Focus on making what you already have fantastic.