How to take a website global: An interview with web globalization expert John Yunker
John Yunker, co-founder of Byte Level Research and author of the new book, Think Outside the Country, is considered the expert on web globalization. Over the past decade, he has helped hundreds of companies and organizations improve their global websites and processes.
An interview with John Yunker
Below are excerpts from an interview I conducted with him where he shares insights and tips on how to attract a global audience to a website.
First off, is there a proven systematic process for taking a website global?
There is a science and art to web globalization. The science includes relying on globally established standards, icons and processes, such as "internationalization" and "localization."
As illustrated below, internationalization is the process of making your website "world ready," and localization is the process of adapting the website to one or more locales. I like to use this automotive analogy: Toyota first had to "internationalize" the car by creating a platform that supported a steering wheel on either side, different engines, etc. The localization of that car happened when it had to adapt to each region/country of the world. Translation occurs in the localization stage.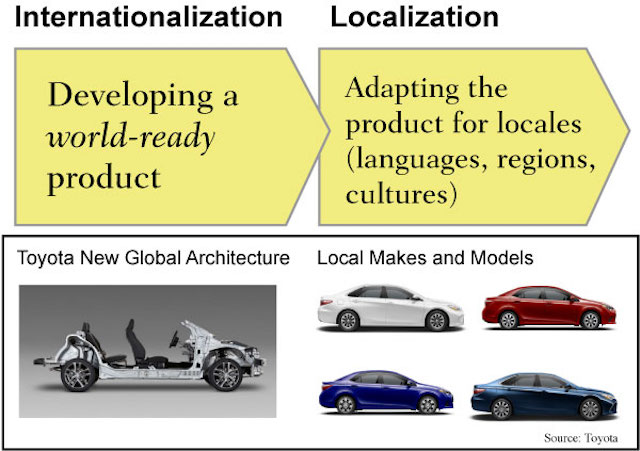 Let's say I am a startup operation based in Chicago, Ill., offering nutraceutical products. I'd like to do business in the United States, the Netherlands and Poland. What do you suggest I do to make that known on my site?
First, I would ask what regulations I must follow for each region. For example, in the European Union, medical products are required to support all EU languages through product documentation. Regarding the website, while many people in the Netherlands and Poland do speak English as a second language, if you want to succeed with eCommerce, you need to support their languages.
But eCommerce is one of the most challenging aspects of going global because you must support shipping, currencies and returns.
You might first investigate using established platforms to sell your products, such as eBay, Amazon and others.
You've said that people don't buy from global companies. What do you mean by that statement?
Do we buy a Starbucks coffee because it has stores in more than 20 countries, or do we buy because there is a location just a block away? A lot of companies make the mistake of thinking that because they're large and global, they have an advantage over local upstarts. But people tend to be more comfortable shopping from local vendors. Now "local" might be as narrow as your neighborhood or as wide as your country, but this is why localization is so critical to success.
If the world were 100 people, where is everybody living? How does this relate to web globalization?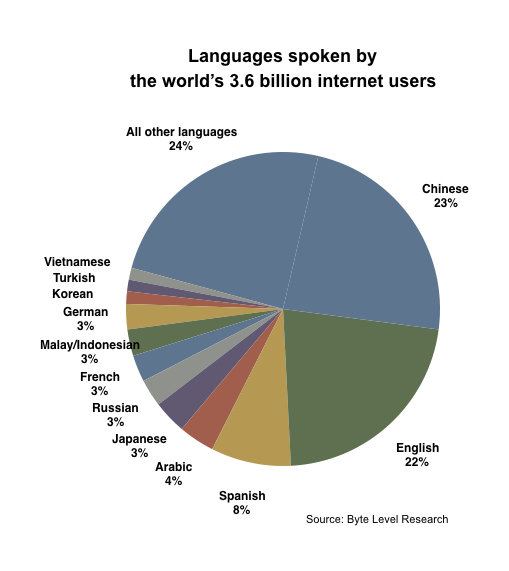 More than half of these hundred people live in Asia. North America accounts for just seven residents. This has major implications on website globalization. As shown below, fewer than 25 percent of internet users are native-English speakers. According to the 2017 Web Globalization Report Card, the leading global brands support an average of 30 languages.
Let's talk design. Tell me about what readers should think about when they design their websites for a global audience. For example, should a business owner support less content across more markets or more content across a few markets?
First of all, companies need to develop global templates that are shared consistently across all local sites, but flexible enough to support different content and text for each market. As for how much content, I recommend a tiered strategy in which your "tier 1" markets receive a greater investment in localization than lower-tier markets. But beware of creating a "local façade" in which you translate a few pages and nothing more. If users find nothing of value on your website, they won't be coming back any time soon.
And what about cultural nuances? How do you convey that on a website?
This is where the "art" of web globalization comes into play. Your vendor can play a huge role in helping you "transcreate" your marketing messages for each market. Transcreating is a more flexible, marketing-oriented form of translation and can be far more successful in communicating with customers and prospects.
What is the one thing you caution everyone on when taking their website global?
Take it slow and think long term. Remember that every globally successful website today, including Facebook, Amazon and Google, began with just one language.
How can business owners make it easier for people worldwide to find their website?
If you can, register country codes for each country you plan to support. Google gives added weight to country codes as the "front door" to your country website. And, of course, the more translated content you offer, the more relevant it will be to customers.
Translating your website might be a good first step to accommodate new overseas markets, but what strategies would you recommend to support the leads that come from having your website in other languages, especially if you don't have staff that speak all of those languages?
Vendors can provide email and even chat support in various languages. You can also work with freelancers in each market to assist in supporting customers. And, worst case, you can always try Google Translate to get the gist of the question.
In addition to your new book, do you have other resources to recommend?
If you have technical questions about web globalization, the World Wide Web Consortium offers a wealth of best practices.
Anything critical we are missing, especially from a legal standpoint, getting paid or reserving domain names in different countries?
I've long argued that country code registrations should be viewed as much as a legal expense as a marketing expense. You're protecting your brand name around the world.
Want to take your business global? Register your domain today.
Web globalization for your business
A big thank you to John for taking the time to chat with me. For additional information on web globalization and to learn the process that companies follow to take their websites, software and products global, listen to John's free WEGGinar™.
Image by: litratcher via Visual Hunt / CC BY