GoDaddy guide to starting a web design business.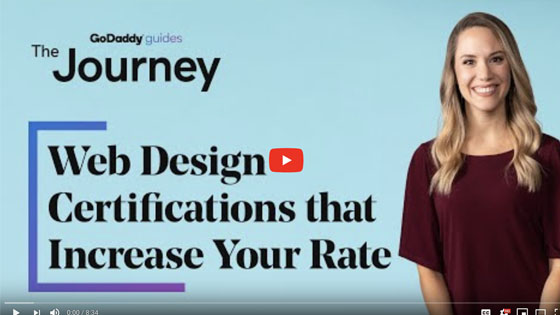 Is this your time for starting a web design business? Maybe you're looking to take your web design gig to the next level? You're in the right place.
The resources on this page (we like to call it our Web Design Business Startup Kit) make up an ever-growing collection of tips, tools and guides for anyone who wants to launch a web design business or to grow an existing web design venture.
Starting a web design business
These web design and development tips, tools and guides come from experienced web designers and developers. It's an ever-growing collection that we update monthly with new voices from around the web.
Are you building websites as a hobby? You'll learn how to turn your passion into a profitable side hustle.
Ambitious entrepreneur? We'll show you how to build sites for clients, no code required.
Already running a freelance business? Learn how to take the next steps in your journey.
Learn how to become a web designer in 2020. This guide covers what web designers do, and why web design is a great career choice.
Gain insights into what it takes to start a web design business — from setting up an awesome work environment and writing a business plan to crafting your brand and establishing a solid client site launch process.
Get your learn on with a six-step guide to learning web design, plus a roundup of essential tools for web designers and developers.
Find tips for landing new web design clients and turning happy customers into enthusiastic referrers. Learn how to write effective web design proposals and contracts.
Grow recurring revenue with website maintenance and content creation services.
Take a deep dive into web design project management — including the nitty-gritty on discovery sessions and our template for a comprehensive project checklist.
Love WordPress? So do we. You'll find scads of info for building and managing multiple WordPress sites.
Keep learning and stay inspired by getting involved with the web design community — we'll point you in the right direction.
Let's work together
If you're running a web design business, we want to work with you.
We share a common purpose: We help entrepreneurs get online. We transform their ideas into real, growing ventures through a successful online presence.
That's why we created GoDaddy Pro.
It's an all-in-one place for supporting our web designer and developer partners.
Here's how it works:
You can manage all your clients and sites from one dashboard. That includes automating tasks like WordPress updates or keeping tabs on site performance.
You'll get secure access to your clients' GoDaddy accounts. Log in as your client to manage their domains, email, and hosting. No need to ask for their credentials.
You can send your clients GoDaddy products to buy, or you can buy the products on your clients' behalf. You'll get exclusive discounts and rewards either way.
And there are even more benefits and perks to come. We've got your back and are here to help you grow.
Ready to start building your web design business? Let's go!