Should you buy your child's domain name?
Updated June 27, 2018
New parents put a lot of thought into choosing their children's names. It's one of the most important things they're going to do for their offspring, right? Like many expectant parents, my husband and I spent plenty of time digging through baby books trying to find a name we both liked before our sons were born. Why, then, does it seem like so few parents buy the accompanying domain name for their children?
Owning a domain name is the first step towards creating an online identity.
And if you think about it, there aren't many reasons why buying a domain name for your child — and then making that child domain name the address of your bundle of joy's very own website — wouldn't be a good idea.
A personalized domain is the seed of an online brand
As the internet and social media continue to interweave with the real world, having access to a personalized domain for your child could prove incredibly useful. A website located at johnnyqsmith.com, for example, could one day serve as the center of gravity for Johnny's YouTube channel, Facebook page and whichever other social sites he chooses to be active on.
A person's presence on social and other online platforms — especially their own website — is an important part of their personal brand.
And that could matter even more down the road than it does now. According to a survey by CareerBuilder, some 70 percent of employers already use social networks to screen potential hires.
Domain names are hot commodities
If your surname is fairly unusual, you don't really have much to worry about when it comes to reserving said name. But what if you're a Johnson or a Taylor or a Smith? A unique middle name might help your secure your child's domain name at some later date, but there's never a guarantee. The last thing you want is to have to settle for a domain like firstnamelastname27.com because the first 26 variations were already taken. If you spot an opening, strike while the iron is hot and register early.
Go ahead, give it a try now:
A domain name isn't a public profile
One of the biggest complaints I hear about registering a domain for children is that it thrusts them into the public sphere. The internet is a wild, untamed space, so I understand the trepidation some parents have about putting their children's information online. However, buying a domain doesn't mean you have to build or maintain a site. You really don't have to do anything with it if you don't want to. Just register it, and remember to renew it every year (or set up an auto-renewal). You can then control your children's privacy until they are old enough to decide what to do with their one-of-a-kind domain.
Editor's note: If you've registered a domain and are wondering about next steps, read this post.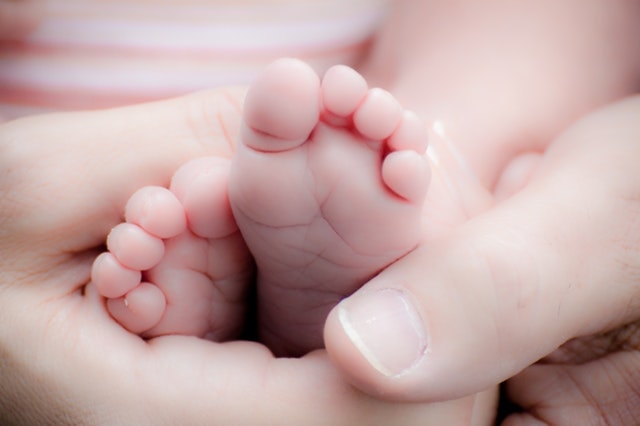 It's an affordable investment
Domain registrars (like GoDaddy) charge a minuscule annual fee to register your domain. You can probably register your child's name as a .com or .net — maybe even as one of the snazzy new domain extensions like .guru, .rocks and .nyc — and still only have to pay in the neighborhood of $20 dollars a year. And if, when your children grow up, they decide they don't want their names in URL form, you really haven't lost that much money.
It gives them the choice, and some power, over their own identity.
Registering your child's domain is probably one of the safest, cheapest and most effective ways of securing their online identity early on in their lives. At the end of the day, it is their name, and it's their choice what they want to do with it. But the internet is already a ubiquitous part of our lives, and there is no reason to think that is ever going to change. A domain name can prove to be an effective personal branding tool when your children grow up.
So, when you're done consulting the baby books, head online and see if you can't grab a dot-something to go with your favorite name.