7 amazing ways to create a stellar personal brand online
Whether you own a small business, a mid-sized enterprise or a well-established corporation, your personal brand will influence the success of your business in more ways than one. It's up to you how to create a personal brand that will benefit your business.
Developing a personal brand gives you an edge over your competition because it changes the way you and your business are perceived.
The integrity of your personal brand shadows your business and that helps your company propel forward.
Today, there are enough and more channels available to help you build an authentic personal brand — starting from your website and social media, all the way to blogs and publications where your or your business's work gets mentioned or shared.
Related: 5 steps to build a personal brand with a personal website
Why is it important to create a personal brand?
As someone who cares about their work, it is important to define what you do, why you do it, and the impact it has on your industry at large.
In many cases, those who actively work on creating their personal brand are able to consistently progress their career and are introduced to some of the best professional opportunities.
However, building your online identity goes beyond just your job title. It's a fusion of how you present yourself publicly — be it to potential employers, clients, customers, colleagues, or anyone who can help with your career growth.
Some of the ways in which your personal brand can directly impact your business are:
Talking about your professional journey and beliefs could help build a positive sentiment about your business.
Giving glimpses of your personality could give your business a more human facet.
Participating in ongoing conversations about your industry could result in invitations to speak at relevant business events.
Connecting with like-minded individuals could help increase awareness and encourage potential clients to work with you.
7 tips to help you create a great personal brand
Creating a great personal brand takes time and consistency. It is important that you consciously build your brand instead of leaving it to form on its own with the occasional public appearances or news items about your business. Here's how to get started:
Try these seven tried-and-tested techniques as you take the first step towards creating a stellar personal brand.
1. Build a personal website
Your website is one of the most important aspects of your personal brand.
It's where you tell your story, define your personality and share your life's narrative in the most genuine manner. It's also where you can share all the information about your personal and professional life, your social media links, etc.
Here are a few suggestions you could consider when building your personal website:
Display some of your best work or client portfolios (not all of it) to demonstrate what you do.
Give links to your social media profiles.
List your awards, achievements and professional experience.
Create a writing journal or blog that's updated at least twice a month.
Add a professional headshot or photo of yourself.
Provide a branded email address as a simplified way for anyone to connect with you.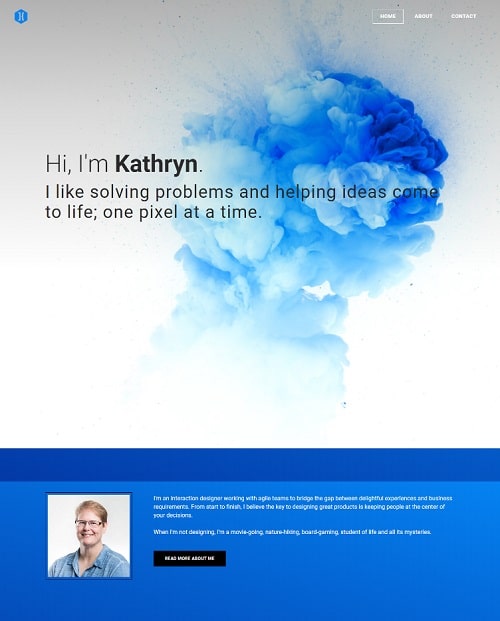 Since every aspect of your website reflects your personality, choose your domain name carefully along with the choice of colors, design and everything else.
Here are a few things to consider when choosing the domain name for your personal website:
Make sure it exhibits your distinct and creative side.
Consider a new domain extension such as .site, .online or .website if you want a more versatile presence.
Choose specific domain extensions such as .tech (technology), .space (creative) or .press (media) to highlight your niche specialty. These extensions are great to build a strong brand positioning.
Include your first and last name in your domain name. While this is not a rule, it's definitely more professional to do so.
Related: Domain extensions guide
2. Find your brand voice
Decide whether you want to inspire, educate or motivate your audience. Do you want to be quirky, helpful, authoritative or serious, in your tone? Answering these questions can help you narrow down your unique brand voice:
What does my brand sound like?
What are my core passions, desires, and interests?
What do I want to be known for?
What are my values?
Once you have identified your authentic voice, share it with the world. This part, albeit easy, requires dedication and consistency. Here are a few ways you can do it:
Identify relevant industry topics and share your take on it through a blog post in your own distinct voice.
Break down this blog post to 500 words or less and share it on LinkedIn and Facebook.
Promote the post with a relevant video on Twitter and Instagram.
Identify questions about your industry on Quora and Reddit, and respond to them. Quick tip: search for the topics on Google and see which Quora posts show up. Prioritize these topics as they can help you gain maximum awareness.
If doing all this seems a bit overwhelming, consider hiring a ghostwriter to help you create and distribute all this content. Find professionals who understand the fundamentals of your personal brand and its core messaging. They can use their expertise to help you create content that better engages your users.
It's a small price to pay for the long-term value.
3. Capitalize on every branding opportunity
When you create a personal brand, even the tiniest of spaces is an important real estate. Since social media platforms are not your own, like your website or blog, you can add a distinctive touch by branding the links you share on platforms likeTwitter, LinkedIn, Quora, etc.
This means that every time you share a shortened link, you can brand it with your custom domain name.
For example, let's say you wish to share the following link on your Twitter feed:
https://contentmarketinginstitute.com/2020/02/vanity-metrics-marketing-goals/
A general link shortener will turn it into a weird link such as:
bit.ly/5FbbG6
This is a waste of a great branding opportunity. Instead of that cryptic link, you can brand and share that link as:
yourname.space/vanitymetrics
You can set up your own custom branded link using a simple three-step process:
Sign up for any URL-shortening service.
Set up your custom domain name.
Voila!
Benefits of using branded links on social media are:
Build trust — It adds credibility to the link shared. Users may not click on random links. By branding each link with your name, you will add a layer of trust to everything you share.
Track performance — It will let you track how many people clicked on it.
Better visibility — Custom links will reinforce your personal brand name over and over, helping with higher brand recall.
4. Establish yourself as a trustworthy resource
What makes a brand popular anyway? Is it because of the product/service it sells? There's more to it than that.
Some of the world's most successful brands have built their following by building trust.It's important to consistently ask yourself — why should your customers trust you?
One of the time-tested ways to build trust is to learn as much as you can about your subject matter.
Study, learn and practice regularly to become an authority in your field of expertise.
Learn everything there is to know about your products, services, competitors and industry. Take heed of customer feedback. Read their reviews, listen to their needs, and explore what's missing.
Your users need to believe that you are an expert and your thoughts and arguments are legitimate.
Here are a few ways to do that:
Subscribe to all the relevant newsletters and set Google alerts to stay abreast of all the latest developments in your industry.
Clearly communicate to your users what your opinions are on a topic or how they can leverage a specific trend.
Be the first to share industry insights, new ideas, tips and tricks through your social media and customer newsletters.
With that last point, be sure to make your newsletters personal. Send them in your name instead of a generic name or your company's name. And keep the conversations in the first person so that your customers feel that you are talking directly to them.
5. Build a reputation among customers
Reputation is at the foundation of any successful brand.
The way you are perceived has a direct impact on your personal brand.
This is why you need to build a fair share of offline presence to nurture your brand's overall reputation.
Find ways to serve your users. Some questions that can help you identify customer's concerns are:
How can I add value to your life?
What do you need most from me?
What do I know that can benefit you?
How am I different from my competition?
Here are a few things you could do:
Look for local events and seminars where you can speak.
Look for conferences that you can attend and share your insights.
Look for networking events and meetups where you can meet and engage with people.
Look for other speakers in your field. Reach out to them and ask for a recommendation.
Related: How to start your speaking career
6. Strengthen ties with social media influencers
One of the best ways to strengthen your personal brand is to leverage the reach and clout of influencers and industry experts. To get started, become a member of communities and actively engage with some of the influencers on it.
Reach out to them and ask if you can collaborate with them on a project.
Bring your best to the table and share your expertise and opinions on topics that are most relevant to your audience.
Here are a few things you can do:
Join social media groups on LinkedIn, Quora, or Facebook.
Get your opinion featured in industry-relevant publications.
Make yourself available as an expert commentator among the journalists working in your industry.
Reach out to journalists by tapping into online resources like HARO and Pressfarm.
Related: How to work with brand influencers when you don't have a budget
7. Make use of beautiful imagery and color schemes
Albeit a small factor, the right use of color and imagery on your website and across your social media can significantly influence your overall brand.
Your display photos and background images are vital as they send a message to your users. They also help to capture the essence of your personal brand and convey your personal style.
The same goes for the color scheme you choose. Color has a deep psychological effect on your customers and can evoke a number of different interpretations about your personal brand.
Do some research on how different colors evoke different emotions. Here's a ready reckoner:
Red is largely associated with power, energy, determination, passion and courage. However, it is also used to signal danger so be wary of that.
Blue indicates trust, reliability, intelligence, confidence and wisdom. Try to include shades of blue in your profile photos.
Yellow, a bright and cheery color, is a sign of optimism and positivity. Depending on your business type and industry, you can use yellow to denote your high-vibe energy.
Green is a great way to showcase growth, money, profit and sustainability. If you are in financial services or if your business promotes an eco-friendly lifestyle, consider incorporating green.
Related: How to choose brand colors and use them on your website
Get started with creating your amazing personal brand
Creating a personal brand may seem like a lot of work but with the right strategy, patience and consistency, you can expect to see positive results.
Whether you're a well-established business owner or a startup founder or just enthusiastic about something and want to be known for it, start by sharing your knowledge and building a strong base.
Image by: John Fornander on Unsplash